Art Exhibitions

Exhibitions change on a regular basis welcoming an artist, or a selection of artists, to exhibit on the Ramp and in the Gallery.
Some exhibitions are launched with a private view which is hosted by the theatre and the visiting artist(s). You are welcome to attend the private view. Please register your interest by emailing the theatre via the Contact page.
Entry to the exhibitions is free and the Gallery can be viewed:
Mondays to Saturdays 10am-3pm – when the box office is open and there are no events taking place in the gallery.
Also Wednesdays to Saturdays 6pm-10pm – when there is a show on.
If you are travelling any distance, please call the Theatre to check that the gallery is open.
---
Glimpses and Remembered Visions: Jo Budd
Sunday 10th July – Wednesday 21st September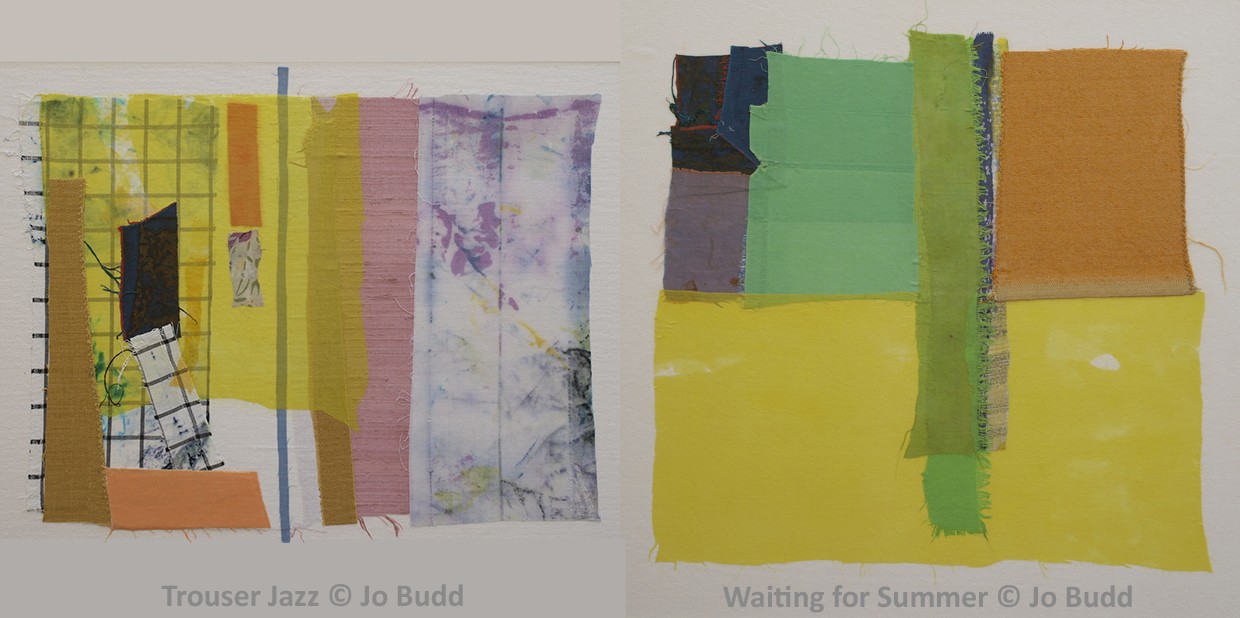 One of the most respected fabric-based artists of her generation with work held in the V&A and internationally, Jo Budd has lived and worked in the Waveney Valley for 25 years, the last 21 of them from her house and studio in Bungay, overlooking the Earsham water-meadows.
These views have inspired her to a new way of working, one involving fabric and plant-based glue in a rapid collage technique.
This now gives her "the speed and spontaneity to sketch a fleeting moment, a day or a memory triggered by the changing light, seasons and colours of this very special part of the world."
---
Conversations in Art: Jilly Szaybo (1945 - 2022) Memorial Exhibition
Sunday 25th September - Thursday 17th November
The painter Jilly Szaybo, who died in May 2022, had been living and working in Bungay since 2016, and at Ditchingham since 2005.
The landscape of the Waveney Valley and the gardens she loved here have been her constant theme and inspiration throughout that time and she has had several exhibitions at the Fisher over the years, the first in 2007, the most recent a shared show with Dom Theobald and Doug Kemp in March 2020.
This memorial show will be a shared one also, with work by the many artist friends she has made over the years and with whom she always maintained a constant dialogue and shared vision of the nature and integrity of the painted world.
Jilly was the first painter of Colour to study at the Slade School of Art in the early 60s and sales from this show will launch a new initiative to establish a fund to enable a young artist of colour to study there in years to come.
---