Art Exhibitions

Exhibitions change on a regular basis welcoming an artist, or a selection of artists, to exhibit on the Ramp and in the Gallery.
Some exhibitions are launched with a private view which is hosted by the theatre and the visiting artist(s). You are welcome to attend the private view. Please register your interest by emailing the theatre via the Contact page.
Entry to the exhibitions is free and the Gallery can be viewed:
Mondays to Saturdays 10am-3pm – when the box office is open and there are no events taking place in the gallery.
Also Wednesdays to Saturdays 6pm-10pm – when there is a show on.
If you are travelling any distance, please call the Theatre to check that the gallery is open.
---
Future Primitive
Sunday 17th September - Monday 6th November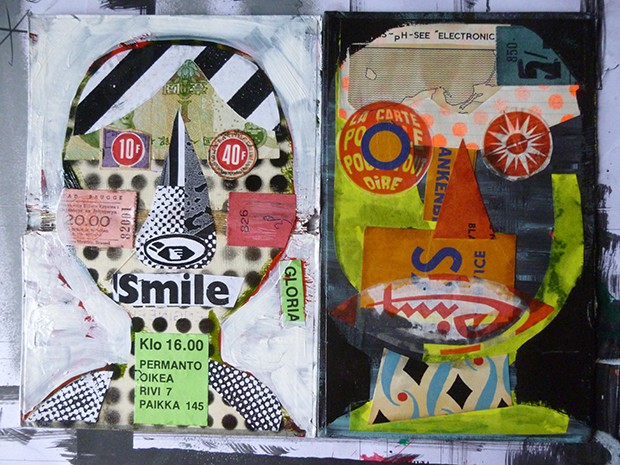 With a highly successful exhibition in a leading Tokyo gallery earlier this year and represented in London and Miami, not to mention numerous pop-up appearances on public wall spaces around the country, Vinnie Nylon is rapidly gaining a reputation as one of Britain's leading mid-generation artists.
Vinnie came to Bungay earlier this year, and loved the town and the Fisher gallery in particular, so we are delighted that he has chosen to have an exhibition with us.
Expect an exhilarating display of 2- and 3-D objects and assemblages, often using found objects, and all painted in an exhilaratingly visceral style, one that often mixes thickly applied paint with sand, sawdust or metal rust.
It is Vinnie's highly distinctive way of working, and one that reflects his particular passion for modernist figurative art of 20thC art from the post war period to the late 80s.
Also expect also to see one or two prominent street spaces around Bungay sporting some of his larger-scale pieces ...
---
Recent Paintings and Etchings
Sunday 12th November - Monday 8th January 2024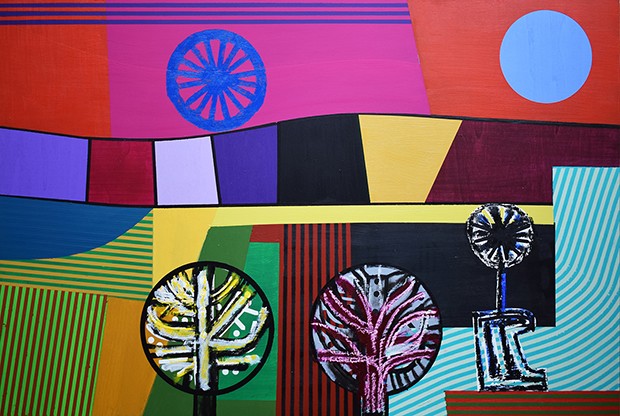 With a well-received exhibition earlier in the summer in Trentino, Italy, and a widely admired cover painting in 2020 for a Brian and Roger Eno vinyl LP, Mettingham-based artist Dom Theobald's artistic profile has increased hugely since his last, very successful, solo show at the Fisher in 2018.
This stunning new display, of recent paintings and etchings marks a major shift in style and subject matter – taking on landscape subject matter for the first time and brilliant in colour, with a taut patterning of forms and a sweeping, linear energy – but still very Dom Theobald in its underlying feeling for place, time and memory.
---